About Us
---
TI Sparkle Greece S.A., formerly known as Mediterranean Nautilus Greece S.A., is part of Sparkle Group, a leading global telecommunication provider of IP, Data, Cloud, Data Center, Mobile and Voice solutions through a state-of-the-art- backbone of around 530.000 kilometers worldwide.
Sparkle's Mediterranean submarine network spans over a distance of approximately 10,800 km. linking Italy, Greece, Cyprus, Turkey and Israel. Throughout these countries and specifically in the cities of Catania, Athens (Metamorphosis and Koropi), Chania, and Istanbul, our company has privately owned Data Centers.
Sparkle Greece manages and operates the whole infrastructure within Greece, that is the backbone as well as the three Data Centers of Metamorphosis and Koropi in Athens and Chania in Crete.

Download PDF - Greece Data Centers Leaflet

Secure Identity Suite is a Security SaaS for effective next-generation authentication and fraud management. Aimed at satisfying the most demanding customers, the service allows users to authenticate themselves by making a simple call from their mobile phone. It is ideal for secure access to restricted areas such as eCommerce and web banking platforms, mobile apps, corporate Intranets, ATMs as well as other types of identity access management platforms.
Our Network
---
The Sparkle Greece network is identified as Aegean Network and comprises a portion of Sparkle's Mediterranean Submarine Network.
Specifically, the Aegean network has three landing points - Aghia Marina, Vravrona and Chania - and two landing stations in Koropi and Chania, Crete. In a ring configuration, the backbone is fully protected and with a guaranteed availability of 99,99%.
In the area of Attica, the Koropi landing station is interconnected with the Metamorphosis Data Center through a double routing fiber-optic connection. Our Metamorphosis, Koropi and Chania Data Centers comprise the perfectly monitored facilities where our clients can co-locate their IT and telecommunications equipment.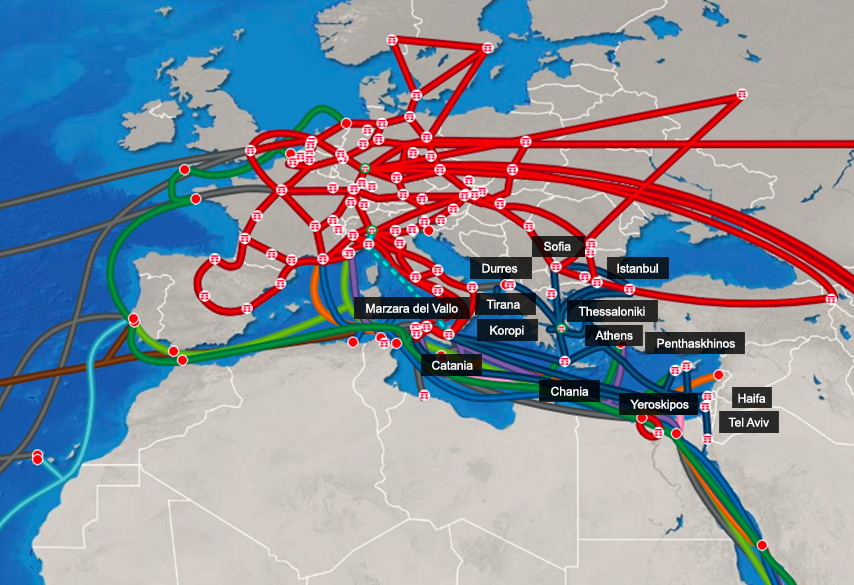 ISO 14001 2015

ISO 9001 - ISO_IEC 27001

more info