22 July 2021
Sparkle's Daniele Mancuso Confirmed as Member of MEF Board of Directors for 2022 FY
Member and MEF certified company since 2011, Sparkle has been a pioneer and promoter in adopting MEF guidelines
Sparkle is pleased to announce that Daniele Mancuso, Chief Product Management, has been confirmed Board Director Member of the prestigious MEF (formerly Metro Ethernet Forum), the global industry alliance that gathers more than 220 service providers and vendors operating in the Telco and IT sectors.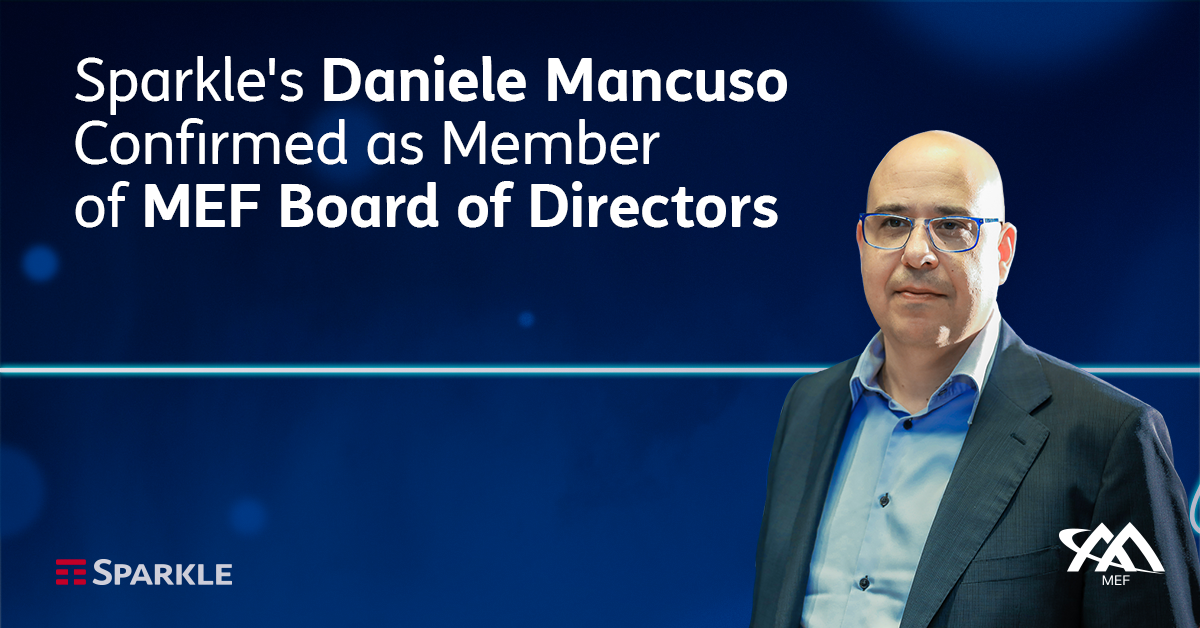 TIM Group has been long-lasting contributor of MEF since the early years of Carrier Ethernet standardization and certification, with Sparkle operating as strong front-end influencer and active participant in the most challenging and innovative projects. Member and MEF certified company since 2011, Sparkle has in fact been a pioneer and promoter in adopting MEF guidelines.
Most recently, in July 2021, Sparkle was one of the only three operators LSO Sonata-certified for automated ordering of CE Access E-Line services by MEF, while in February the company was endowed with MEF's Business Impact Award for a Proof of Concept on Secure Access Service Edge (SASE) orchestrated by Lean NFV. Already in June 2020 it had been listed in a group of eight Service Providers to be production-ready for deploying MEF 3.0 LSO Sonata APIs to automate ordering of MEF 3.0 Carrier Ethernet Access E-Line services.
These wins follows the recognitions achieved by Sparkle through the years, including the Proof of Concept Award for Service Assurance Implementation for the "Dynamic Connectivity and Commerce Enabled by MEF 3.0 and Blockchain" in 2019, Best MEF 3.0 Implementation Project and Silver Proof of Concept Award for Federated Inter-carrier Data-on-demand Services through Automated Discovery and Blockchain Settlement in 2018, Enterprise Application of the year for Media in 2017, LSO Leadership Worldwide and Third Network Proof of Concept Innovation in 2016 and Best Service Innovation-EMEA and Best Enterprise Application in 2015.