05 October 2023
Sparkle Among the Big Winners at the MEF Excellence Awards
Sparkle, the first international service provider in Italy and among the top global operators, is among the big winners at the MEF Awards ceremony, held in Dallas within the MEF Global Naas Event. The global industry association recognized Sparkle as best European service provider in the areas of SD-WAN, SASE and MEF 3.0 Carrier Ethernet on Demand services, while honouring Daniele Mancuso, Chief Product Management, with the "Michael Howard Industry Impact Award" for his outstanding contribution to the development of the telecom sector.
The 2023 MEF Awards program recognizes excellence and innovation in the global community committed to providing advanced communications solutions optimized for the digital economy. This year's edition is dedicated to service providers, technology suppliers, and professionals who are playing leading roles in driving industry transformation to dynamic services across a global ecosystem of automated networks.
The "SD-WAN Managed Service Provider of the Year – Region Europe" acknowledges Sparkle's multi-vendor SD-WAN solution as the most advanced, secure, application-aware, policy-based over-the-top WAN connectivity service available in the region.
The "Secure Access Service Edge (SASE) Managed Service Provider of the Year – Region Europe" rewards Sparkle for its remarkable solution combining network connectivity, cybersecurity functions, and subscriber policies into the most compelling SASE service offering available to customers. Already celebrated by MEF with the "Business Impact Award" in 2021 for its Proof of Concept on Remote Employee Access to Cloud, Sparkle's SASE Connect applies an agnostic, structured and MEF standardized approach that make it the optimal solution for enterprises looking for high-performance and secure connectivity perfectly integrated with public and private cloud services worldwide.
The "On Demand MEF 3.0 CE Service Provider of The Year – Region Europe" recognizes Sparkle for its Cloud Connect on Demand solution. Based on MEF CE 3.0 certified network, Sparkle Cloud Connect extends corporate private networks to the cloud capabilities of leading hyperscalers, providing better performance, increased reliability, higher bandwidth, lower latency, and greater security than typical connections over the public Internet.
Furthermore, the jury honoured Daniele Mancuso with the memorial "Michael Howard Industry Impact Award" that recognizes an outstanding individual who has made a positive impact in building a sense of community, sharing knowledge, and encouraging collaboration to create a better together industry. Member of the MEF Board of Directors since 2019, Daniele has contributed significantly to hot projects in the context of LSO API and Blockchain, SASE and SD-WAN - promoting a supportive approach to professional relationships, mentoring colleagues, and keeping a positive attitude that inspire others.
"These awards, while recognizing the hard work of all "Sparklers" that day by day contribute to the success of the Company, also acknowledge our shift from a pure Wholesaler to a Global Service Provider", commented Daniele Mancuso, Chief Product Management at Sparkle. "I am also surprised and honoured for being awarded with the "Michael Howard Industry Impact Award"; this acknowledgment further stimulates and encourages my commitment to promote the adoption of open standards and collaboration in our dynamic and innovative industry."
Sparkle has been long-lasting contributor of MEF since the early years of Carrier Ethernet standardization and certification, operating as strong influencer and active participant in the most challenging and innovative projects. Member and MEF certified company since 2011, Sparkle has in fact been a pioneer and promoter in adopting MEF guidelines and recognized with prestigious awards. In addition to Daniele Mancuso, Sparkle participates in the strategic direction of the association with Elisabetta Romano, Chair of Sparkle and MEF Advisory Board Member, Antonella Sanguineti, Director Secure Cloud & Networking Product Management and Co-Chair of the Integrated Trust Network Maintenance Council, and Lorella Scalcione, Chief Information Officer and Co-Chair of Women@MEF.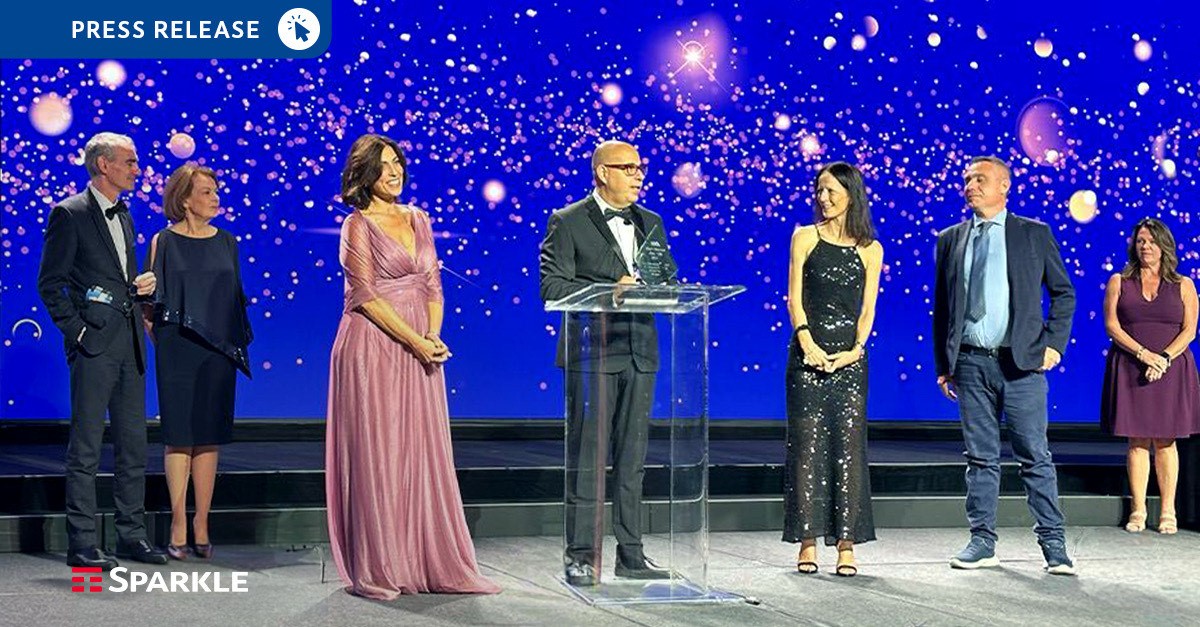 About Sparkle
Sparkle is TIM Group's Global Operator, first international service provider in Italy and among the top worldwide, offering a full range of infrastructure and global connectivity services – capacity, IP, SD-WAN, colocation, IoT connectivity, roaming and voice - to national and international Carriers, OTTs, ISPs, Media/Content Providers, and multinational enterprises. A major player in the submarine cable industry, Sparkle owns and manages a network of more than 600,000 km of fiber spanning from Europe to Africa and the Middle East, the Americas and Asia. Its sales force is active worldwide and distributed over 32 countries.
Find out more about Sparkle following its X and LinkedIn profiles or visiting the website tisparkle.com

About MEF
MEF is a global industry association of network, cloud, security, and technology providers working together to accelerate enterprise digital transformation through a better-together ecosystem. MEF delivers service standards, LSO frameworks and APIs, and training and certification programs for services, technologies, APIs, and professionals. The MEF 3.0 Framework enables automated delivery of standardized Carrier Ethernet, IP, Optical Transport, SD-WAN, SASE, and other services across multiple provider networks. For more information and to hear the latest Executives at the Edge podcast visit MEF.net and follow us on LinkedIn and X.
Media Contacts
sparkle.communication@tisparkle.com
Twitter: @TISparkle