20 October 2022
Sparkle Wins the "Best Subsea Innovation" Award for Its Genoa Landing Platform
The Infrastructure among the winners at the Global Carrier Awards, the most prestigious competition in the global telecommunications sector
Rome / London, 20 October 2022
Sparkle, the first international service provider in Italy and among the top global operators, received the "Best Subsea Innovation" prize at the Global Carrier Awards (GCAs) ceremony, held last night in London within the Capacity Europe 2022 event to celebrate the achievements in wholesale telecoms in the past year. At their 18th edition, GCAs are the telecoms' largest celebration of innovation, vision and excellence across the industry worldwide.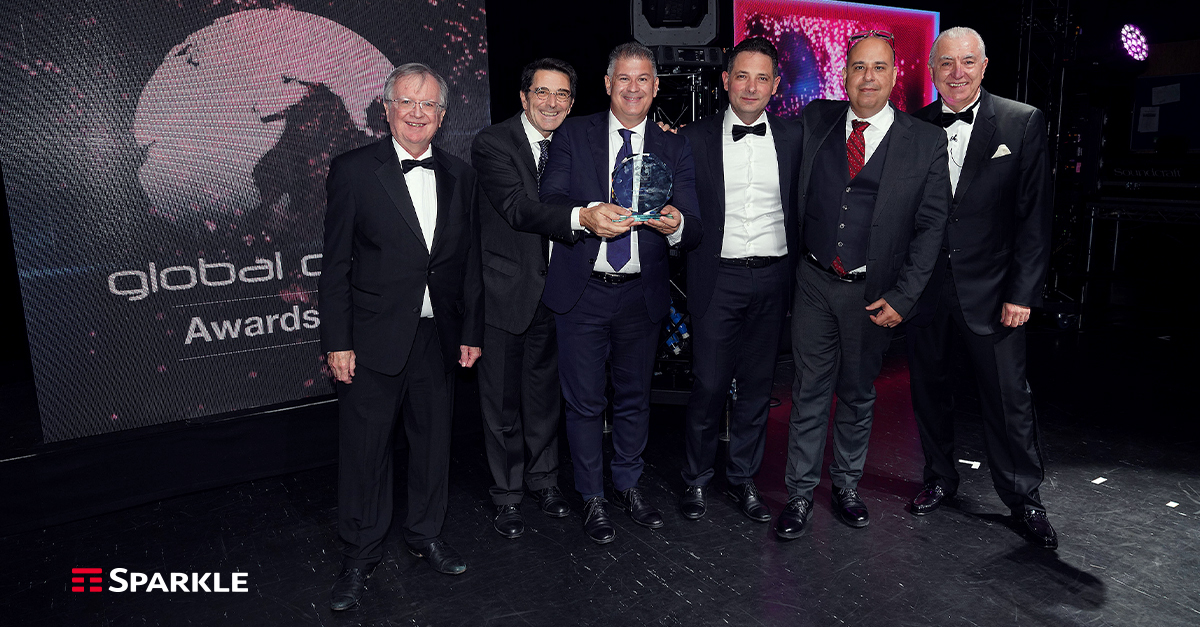 The jury - made up of an independent panel of more than twenty judges from top global research and consultancy firms, trade media and industry associations - acknowledged the innovative scope of Sparkle's Genoa Landing Platform, a new infrastructure designed to ensure the sustainable landing of submarine cables seeking diversified access to the major European hubs.
The heart of the infrastructure is the multi-ducts underwater installation known as "Bore Pipe", which allows the safe landing of eight different cables, two of which are dedicated to the BlueMed/BlueRaman submarine cable systems. Excavated to a depth of one metre along a 1 km route, the Bore Pipe reaches the beach where, from the "Beach Manhole", the cables continue through an existing network of tunnels and galleries that run beneath the ground at a depth of 2 metres for 6 km up to the Lagaccio landing station, an open and neutral colocation facility and point of interconnection with other submarine cables as well as national and continental terrestrial networks.
Sparkle's Genoa Landing Platform has been acknowledged by the jury as a remarkable innovation for the subsea sector due to its diversification potential to other European landing points, the resilience and scalability of its underground and submarine landing infrastructure, as well as the reduced impact on the city and the marine environment.
Commenting on this achievement, Elisabetta Romano, CEO of Sparkle, said: "We are honoured to receive this prestigious award that recognises the innovative value of the Genoa Landing Platform and related engineering works. We are also pleased to underline how this award, also linked to Sparkle's flagship BlueMed/BlueRaman project, brings Italian technology, creativity and inventive back to the centre of the global TLC ecosystem".
About Capacity Media
Founded in 2000, Capacity Media is an essential source of news and events in today's telecommunications wholesale carrier and service provider marketplace focusing on the critical business issues that carriers face in the rapidly-changing telecoms market.
Through its portfolio of Capacity magazine and a combination of large-scale global and virtual events including Capacity Europe and International Telecoms Week (ITW), Capacity Media has become a vital source of business intelligence for the global ICT infrastructure industry.
For more information on the Global Carrier Awards, please visit: capacitymedia.com/awards
Media Contacts
+39 06 368 78231
sparkle.communication@tisparkle.com
Twitter: @TISparkle