27 September 2023
Sparkle Activates the Middle Eastern Section of BlueMed
Sparkle, the first international service provider in Italy and among the top global operators, announces the activation of the terrestrial section of the BlueMed cable connecting Aqaba in Jordan to Sparkle's Mediterranean backbone as well as direct service availability between Aqaba and Milan using BlueMed new segments.

BlueMed is Sparkle's new cable that will connect Italy with France, Greece, and several countries bordering the Mediterranean Sea all the way to Aqaba in Jordan. The cable is part of the Blue & Raman Submarine Cable Systems, built in partnership with Google and other operators, and that will extend to Mumbai in India.

With its four proprietary fibre pairs and a capacity of ~25 Terabits per second (Tbps) per pair, BlueMed provides diverse and ultra-high-speed connectivity that is unique to date and destined to increase further as the technology evolves in the region.

With the activation of the Middle Eastern terrestrial section, Internet Service Providers (ISPs), carriers, telecom operators, content providers, enterprises and institutions can benefit from high-speed Internet connections and premium capacity solutions from Aqaba to Milan leveraging the two BlueMed segments already active and Sparkle's Mediterranean Backbone.

This new lighting up of the diverse and protected terrestrial backbone from Aqaba follows the one announced in September between Palermo, Genoa and Milan, marking another step toward the completion of Sparkle's BlueMed cable that, by the end of 2023, will see activations to Pomezia (Rome), Golfo Aranci (Sardinia), Bastia (Corsica) and Marseille and then, during 2024, other routes in the Mediterranean.

In Jordan, BlueMed lands in the carrier-neutral tier-3 data center operated by Aqaba Digital Hub which hosts Sparkle's PoP since 2019 and is already connected to the company's international state-of-the-art network and Tier 1 global IP backbone Seabone. With the addition of BlueMed, Aqaba Digital Hub enables faster and more reliable internet connectivity for businesses and individuals in the Jordanian market as well as in the neighboring countries, thus reinforcing the country's role as gravitational digital gateway of the Middle East.

Aqaba Digital Hub Founder and CEO Eyad Abu Khorma said: "We are delighted to welcome BlueMed to our carrier-neutral data centers in Aqaba, marking a significant milestone for Aqaba Digital Hub in our journey to serve Jordan and the neighbouring markets. This strategic collaboration with Sparkle and BlueMed will advance Aqaba Digital Hub's position as the first fully neutral facility in the Middle East region, further enhancing access between Europe, the Middle East, Africa, and Asia and enabling additional initiatives and projects with our partners to fortify these connections."

"The landing in Aqaba marks a further step towards the realization of our flagship BlueMed project." explained Enrico Maria Bagnasco, CEO of Sparkle. "Moreover, by partnering with Aqaba Digital Hub we consolidate a long standing and fruitful relation while strengthening our presence in Jordan, a strategic country for the industry and a reference hub for the digitalization of the Middle East."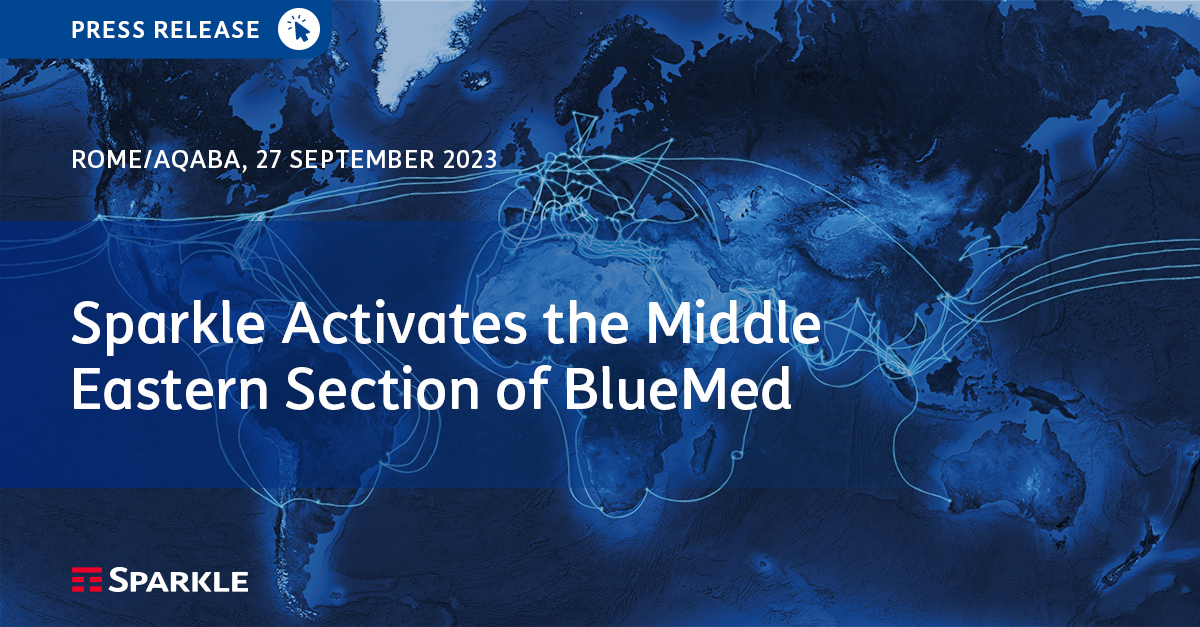 About Sparkle
Sparkle is TIM Group's Global Operator, first international service provider in Italy and among the top worldwide, offering a full range of infrastructure and global connectivity services – capacity, IP, SD-WAN, colocation, IoT connectivity, roaming and voice - to national and international Carriers, OTTs, ISPs, Media/Content Providers, and multinational enterprises. A major player in the submarine cable industry, Sparkle owns and manages a network of more than 600,000 km of fiber spanning from Europe to Africa and the Middle East, the Americas and Asia. Its sales force is active worldwide and distributed over 32 countries.
Find out more about Sparkle following its Twitter and LinkedIn profiles or visiting the website tisparkle.com
About Aqaba Digital Hub
Aqaba Digital Hub, located in Aqaba, Jordan, caters to the growing needs of enterprises and technology providers in the MENA region. It includes fully neutral hyper-scale data centers, an Internet Exchange Point (AqabaIX), private cloud, an open-access subsea cable landing station, among others. Serving as a vital access corridor between Europe, the Middle East, Africa, and Asia. Find out more about Aqaba Digital Hub by following its LinkedIn profile or visiting the website www.aqabadh.com
Media Contacts
sparkle.communication@tisparkle.com
Twitter: @TISparkle