28 May 2021
Sparkle at Namex Meeting 2021
#RELOADINGDIGITAL
The EU's long-term budget, coupled with NextGenerationEU will be the largest stimulus package ever financed in Europe. It will be a greener, more digital and more resilient Europe. Furthermore, the Digital Compass sets out the European Union's vision and methods for its digital transformation process to be achieved by 2030.

The role of digitization is important not only in and of itself, but it becomes of strategic relevance as an enabler of the further transformations required by the new strategy for the transition to a circular and resilient economy that has zero climate impact.

The traditional morning conference will be broadcast live, streaming from a TV studio located in Rome. An extraordinary mix of Keynote Speeches and Panels, for a total duration of approximately three hours.
In the afternoon the usual One-to-One meeting session will take place using again a virtual formula. One-to-one meetings are a great opportunity for all attendees to schedule meetings with us and build new relationships within the Namex community.
MEET SPARKLE
Don't miss "Cloud Connect and Bandwidth On Demand: new challenges ahead" in the afternoon of 9 June held by our Valentina Cinelli, Key account Manager, and Thierry Tomiet, Director IP&Data Sales Western Europe.
Register now through this link!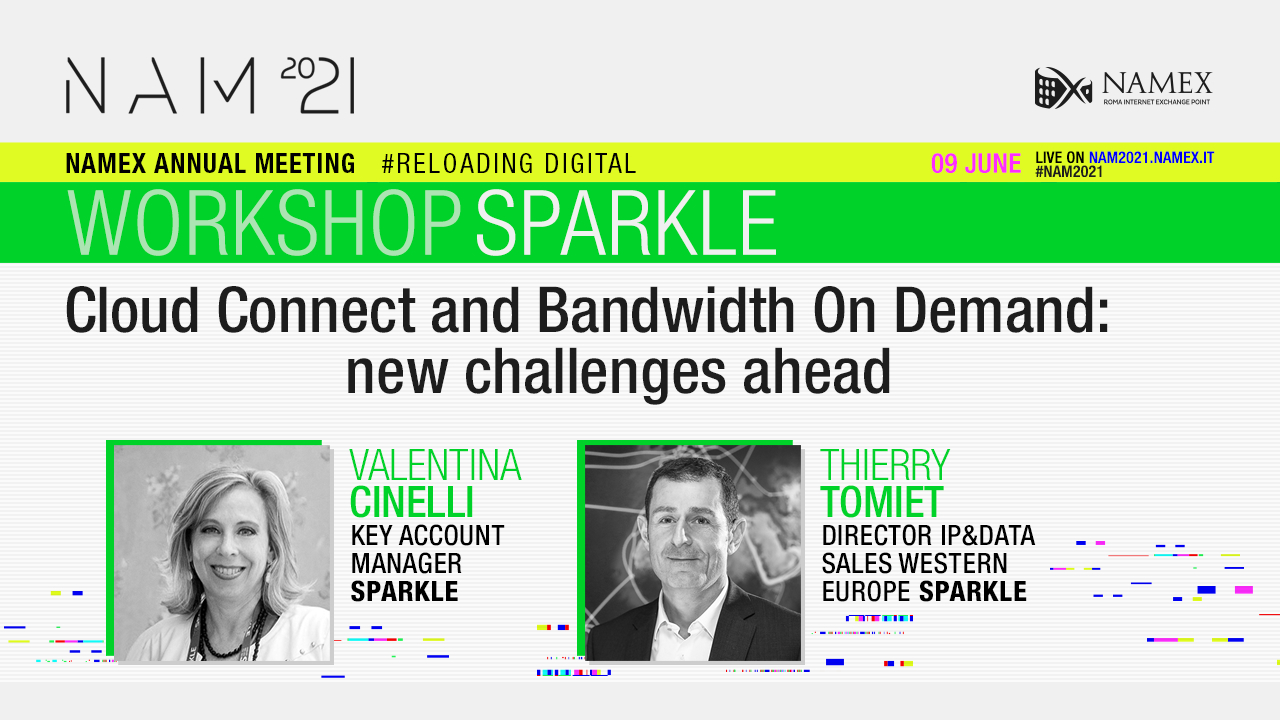 Cloud is an enabling factor to become agile in the era of digital transformation. Sparkle is a key partner for operators and enterprises willing to change and evolve towards main Cloud providers worldwide. Thanks to super-fast, dedicated and secure interconnections, Sparkle is a key resource and strategic asset to answer the cloud challenges for a high-level customer experience in a resilient environment.
Register now through this link!